Welcome to All Oil, All the Time. This is a blog dedicated to the greatest hockey team in history. Who else but the Edmonton Oilers.
I should have started this during the playoffs, but I was too busy going to games and plus I was using my msn blog. But time for a change, hello blogger!
There is much to discuss of late: from the defection of Chris Pronger due to personal reasons (which is code for he couldn't keep it in his pants), the following horrible trade to Anaheim (the only good news, we'll get to boo him twice a year during the regular season) and the continued exodus of Oilers such as Peca, Spacek, Laraque, and Conklin (at least we're happy to see leave, bye Conks).
But let's not dwell on the negative. Did I just say that? Yes you're right, we should dwell on the negative. Let's start with our most-hated Oiler, Chris "I'm god's gift to women" Pronger, who has grabbed hold of our most-hated title from Mike Comrie. Here we have someone who has been playing in hockey Siberia, aka: St. Louis. He gets traded to the Oilers, pursues a long-term deal with the Oil, has a pretty good season followed by an even better playoffs. He was coming off several mediocre and injury-filled seasons, is revitalized playing with the Oil, playing with talented youngsters and a great coaching staff. He makes it to within one game of the Stanley Cup, hell one goal. BUT....four days after game seven, he asks for a trade. Actually, he does not ask for it, his agent does. Prongs and the misses are in sunny Mexico, not courageous enough to face the music. He is in Mexico and won't clarify the issue. So let me. Our lovely Chrissy.....
been screwing around with a 22 yr old from Club Fit

the little mistress confronts the wife

wife demands Chrissy get out of town, anywhere but Edmonton

this is not the first time Chris has had a problem with his zipper (

also had a fling with the CITY TV reporter before moving on to Club Fit girl)

wife makes Prongs move, they'll be living in Anaheim now, so have fun policing your husband in sunny California
So our little Chrissy has flown the coop via an abysmal trade. Sorry Kevin Lowe, I absolutely adore you. I think you have done wonders with this team, with all the trades in the past (yes, in the past, we could not afford to keep anyone. Now that we can, no one wants to play for the Oilers, save Georges Laraque. That is another story). Prongie's stock is at its all-time high, so Kevin trades him to Anaheim; a team in our conference (I will enjoy booing Chrissy, but you never trade a great player within your own conference), a team that was pretty good last year, a team that gave up very little to get Chrissy....
We get a Lupul (yes a local boy. We all know how that worked out last time, hmmm Mike "I can't handle the pressure" Comrie),

a Smid (who? Oh yes, another prospect),

2007 first round pick,

2008 second round pick,

and a conditional first round 2008 pick (conditional on Anaheim's playoff run next year).
So does anyone else think we got screwed on this? I was expecting at least one superstar. At least one. Lupul is no superstar. Maybe someday??
So with Prongs gone, Spacek has signed with Buffalo, Peca might be signing with the Leafs but not sure about that. All we know, Pecs is not coming back. For 4 million, no god damn way we want him back.
Then Dvorak, actually his lovely agent Rich Winter, stated he wanted out of Edmonton. I believe it was anywhere but Edmonton. Thanks! (more to this later).
Next up, finally a player wants to stay in Edmonton. Says he will take a pay cut. Great. What? You want a no-trade clause. If Prongs doesn't get one, a Georges Laraque is not going to get one. He signs with Phoenix, for more money and his no-trade clause. Thanks Georgie.
We sign Daniel Tjarnqvist. Who? Some Swede who played for Minnesota last year. I know we need to toughen up our blue line, but we need someone I've actually heard of please. At least it's only a one year contract.

Next up, we trade a 7th round draft pick in 2007 (ugh 7th round, let me guess, this must be a prospect and not a very good one) for Jan Hejda.
Kevin.....you are forgetting about one player. What about Igor?? Ulanov, who I thought should have been playing in place of Matt "cough up the puck per play" Greene.
Let me first say, I'm a life-long Oilers fan. I love them more than my own family (okay, that's not true. But I love at least as much as my family). I will support them no matter what. I supported them during the lean years in the mid-90s (oh god, those were rough years) and I supported them this year when they had a very mediocre season (although, we are in a very tough division and conference so our 95 points was VERY earned compared to those eastern teams). But I'm a bit worried about our team.
Oh wait, I forgot about our savior. Yes we resigned our savior, Dwayne "hell yes I'm the savior" Roloson. Okay, I'm not so worried all of a sudden. Yes we paid big bucks for this man (overpaid, hell yes) but it's worth it. We have seen the horror of Morrison, Conklin and Markkanen (who has redeemed himself during the playoffs. He's always been a solid goalie, but he's not a number-one guy. He's a great backup) so the 11 million over 3 years is worth it for Roli.
Oh yes, Dvorak says how much he loves Edmonton and is not sure why his agent said that (bargaining power?). Ok, he doesn't hate Edmonton. So if that's the case, sign a contract (has one even been offered?). Do we want him?
So we have a very good goalie, great forwards, but a weak blue line. They might be okay? It doesn't matter, I'll be coming back as a season ticket holder and will be proud to cheer on the Copper and Blue (in my mind, it's not copper, it's orange. Bring back the orange!!!!!!) and boo Prongs (and Comrie, Weight, Carter, Guerin...is there anyone in the league who hasn't been an Oiler? So many people to boo, so little time)!!!!
Bring on October. I'm ready for my boys!!!!!!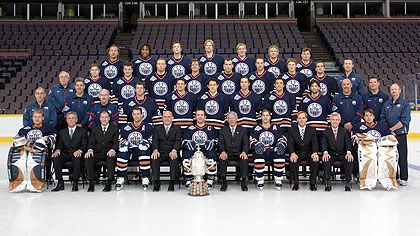 Psst.....schedule for the 2006-2007 season is up. Get ready to boo on November 28th and January 18th!!!
Well, Samsonov has signed with Montreal. Two year deal worth 7.05 million. The Habs got took...he's not worth 3.5 million a year.